1-Day HR Manual-Writing Workshop for HR Executives
Fellow HR managers and executives,
Are you and your team faced with the dreaded assignment of having to write your company's HR Policies & Procedures Manual?
Or even worse, you've been given the task of updating an unwieldy doorstop of a manual that's been neglected for years?
Are you guilty of procrastinating on getting started because you perceive this as a mega-project?
Or you have a sketchy idea of what to write but it's all disjointed and incoherent, making it almost impossible to decide where to begin?
If so, this 1-Day workshop based on my bestselling book, "Your Obsolescence-Proof HR Manual" is for you.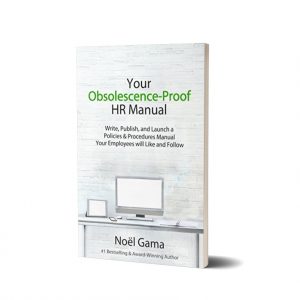 As the ever-loaded HR executives that we are, we don't really have enough time to set aside from our busy day-to-day schedule for writing a book-sized manual.
My system gives you a proven and time-tested system with tips to optimize the writing and the effectiveness of your HR manual through a 7-step process that lets you:
Compile, update, and maintain your HR Policies & Procedures Manual in a relatively easy way
Keep it obsolescence-free and ISO-compliant
Make it user-friendly with its simple numbering system
Have built-in strategies to make your manual effective
Make use of cutting edge technologies to make the writing process easier and faster
Make use of a very popular app to make the manual accessible on all computing devices
In this workshop I will show you my own process of writing, publishing and launching a slim, easy-to-manage and quick-to-maintain manual that is obsolescence-proof, user-friendly and online-ready.
Turn this so-called dreaded assignment into an opportunity to become a celebrity employee by authoring a high-quality, always current HR Policies & Procedures manual!
And most importantly, you will have the knowhow for writing a manual your employees will like and follow.